Extraordinary Furniture Designer Maker

Reece Van SandenBA (Hons) / Dip C.Eng / City & GuildsDesigner / Engineer / Craftsman
ABOUT ME
As far back as I can remember, I made things.I usually made things from bits of other things that I had broken first in order to work out how they were made. If I wasn't making things, I was improving things. If it squeaked, I would oil it; if it went slowly, I would add battery power with the help of blu-tac and sellotape and if it was pink, I would paint it ... black. I will never forget the time I wired my Meccano motor to the mains and ruined the upstairs ring main for a week. True story.I was always number one in the class at Design & Technology at my Catholic Secondary School in Battersea, London (and last in RE) and I set out on a path to become a Civil Engineer. I gained a Diploma in Civil Engineering from Westminster College but it wasn't for me. Civil Engineering is about doing the technical maths stuff to make other creative people's ideas work and my heart wasn't in it.My first grown-up job was at an oil company, helping the Reservoir Engineers to analyse how much oil there was under the North Sea but after a couple of years, I realised I just wanted to make stuff. I bit the bullet and went back to school. Buckinghamshire to be precise. I didn't quite fit in with my hair gel with the woody types with their roll-ups and beards but I loved every minute of learning everything to do with making furniture. Four years later and City & Guilds and Degree qualified, I was off to show the world I had arrived.Erm ... 10 years on and there I was ... in a very enviable position in IT management with big budgets and lots of responsibility that made my chest hurt. So I left. One day, I just quit. I had enough of the folding stuff to keep me going for a while and I had quite a bit of kit to get started ... making things.Three month's de-mob happy and oh so many leaving parties.It's nearly 20 years ago now and in that time, I have relocated to Yorkshire and taught myself just about every skill I needed to do anything I wanted to do. Domestic electrics (Part P qualified), plumbing, plastering, welding, tiling and even decorating skills now sit squarely alongside upholstery, wood machining and French polishing. My 1000 sq-ft workshop is fully equipped to handle anything I want to throw at it, whether it be a burr-veneered picture frame for Paddington Bear or a £20k handmade kitchen.
I am very proud of what I have achieved since I was seven and I'm lucky to be able to draw on many of the skills developed in my other incarnations. Should you ever be passing the Institution of Civil Engineering, near Big Ben, you might want to pop in to see my console table in concrete, steel and glass entitled 'Tribute to a Civil Engineer'. It's outside the library as I recall.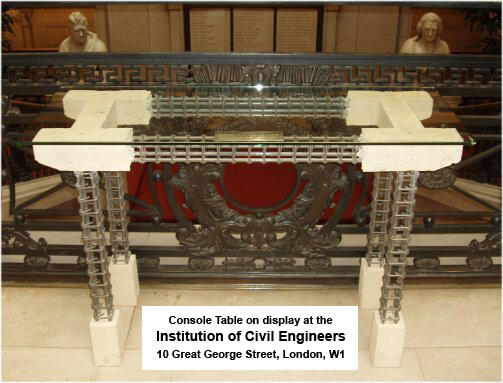 I'm pretty much full-time in the workshop these days, which is what I really love. I feel lucky to be doing what I love but couldn't actually do it without some of the most amazing clients I could wish for. Huge thanks to all of you for your vision, support and loyalty.Reece Van Sanden
MY WORK
I am delighted to undertake any sort of project from bespoke, painted MDF fitted cabinetry to standalone, statement pieces crafted with fine, hand-cut dovetail joinery and exotic veneers. As my clients will attest, I want to provide the wow-factor with everything I do and it is my clear intention to over-deliver with imagination, attention to detail and, of course, skill.I work with all sorts of materials and I have no preference working within any particular style constraints. You will see from the curated pictures on this site, that I offer a wide range of skills, not normally found outside overhead-heavy businesses. Please get in touch if anything here catches your eye or if you have ideas you'd like to discuss. You will find me enthusiastic, informal and openminded.
THE PROCESS
It all starts with me visiting you to discuss your ideas. It's at your convenience, informal and no-obligation. We might have a good idea of what you need straight away or we may need to do a bit of research on Pinterest or Google images to see what grabs you before I get my thinking pencil out. Once I have an initial concept, I'll submit a computer rendered image for your consideration. Sometimes, we score straight away but you might have other suggestions or tweaks and that's great. I will submit further presentation drawings and make modifications as required, along with a written description, materials specification and price. If you're not delighted, or you want to make further changes, that's fine but if you do want to proceed, I will usually need a deposit to confirm the booking and cover material costs.
Remember to visit the MAIN GALLERY - click below ...
AS SEEN IN
Here are some notable associations and clients. My work has been featured in numerous magazines, local newspapers and online blogs. Clients include businesses and private clients in London and Yorkshire; from local schools to The Institution of Civil Engineers.
The Yorkshire Post

Horse & Hound

Pony Magazine

Grand Designs

Bellway Homes

Blocc Interiors

Persimmon Homes

Andrew Henry Interiors

The Institution of Civil Engineering

The Telegraph

Barnsley Chronicle

Enterprising Barnsley
CONTACT ME
Please do not hesitate to call me directly on 07956 234 748. If I don't answer, it's because I'm wearing ear- defenders. If you'd rather e-mail, please click the icon below.Oh, ... and you can click below to start following me on Facebook to see what I'm up to ...
Love Heart Lamps
Coming soon. Love Heart Mood Lamps.
Each one hand veneered from selected burrs. Burr Walnut shown. Oak and Brown Oak available now.
Prices and availability upon request.
Call 07956 234 748 or email love@vansanden.com